Each year I create a custom Christmas card for family, friends and clients. They get printed, signed, stamped and mailed the old fashioned way. It's a tradition I plan to hang on to as long as possible, even if it does add some stress each year trying to come up with a new theme.
While designing this year's card, I reflected on past years and thought it would be fun to share them here.
2004
May the Spirit of Christmas light up your holidays and shine forth into the New Year.

2004 was a huge year for the Apple iPod. The iPod marketing campaign blew me away. I would stop and watch TV commercials when they came on. I was so inspired by the visuals that I used the idea for our first family Christmas card.
I didn't yet own a DLSR camera, so these images were shot with a 2 megapixel Olympus. I photographed a single bulb and used Photoshop to create the different colors. The silohettes, lights and colored backgrounds were all created in Photoshop.
This remains one of my favorite card designs. It's fun to look back and recall how I came to my photographic art through Photoshop first, and photography second.
2005
This Christmas we wish you peace. Peace for your family, peace for your community and most of all for Peace on Earth.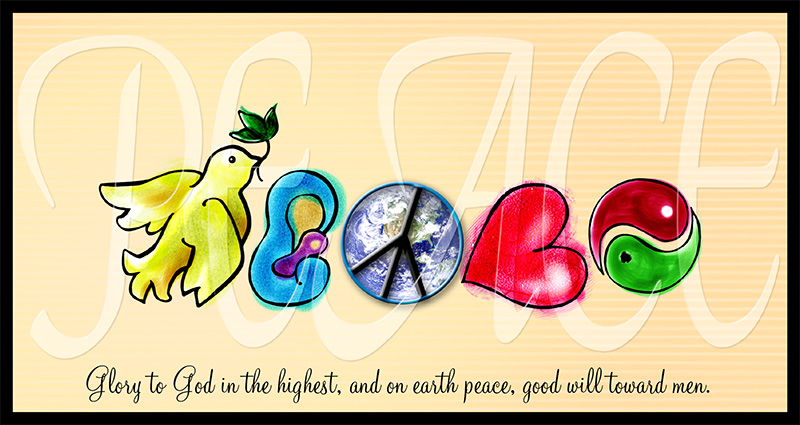 In December of 2005 I was laid off from my job. In 2005 our country was also fully engaged in its third year of war. Both things weighed heavily on me.
I was considering full time freelance graphics for my next career path, and decided I should start by designing a Christmas card. Each character is supposed to represent the letters in the word "Peace". I see the letters very clearly, but I'm not sure anyone else ever did.
I look back at this card and I can see how much I have grown as a designer and a Photoshop artist.
2006
"Now bring us some Figgy Pudding." …whatever the heck that is?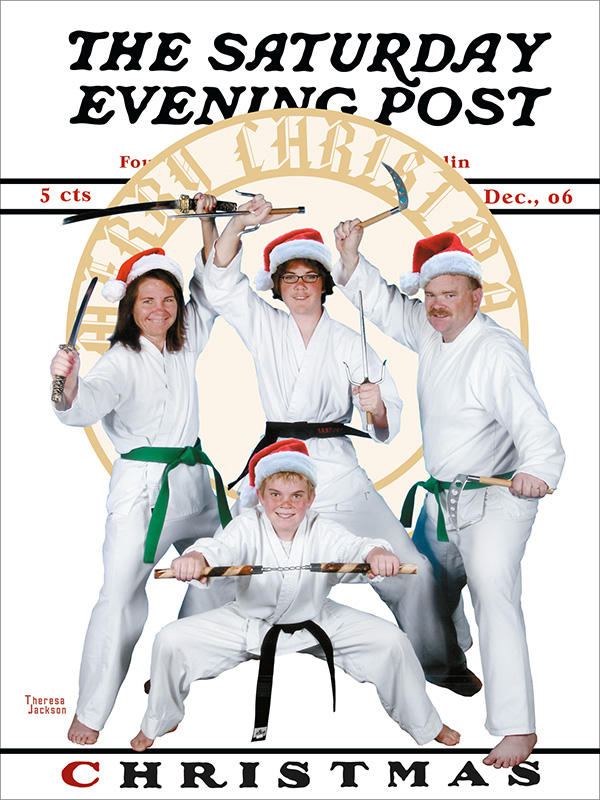 The family portrait was taken at our Martial Arts school. I think it's strangely funny, because we all posed with weapons. I decided to go completely absurd by turning the portrait into a Norman Rockwell Christmas. I'm not sure how many of our family and friends got the joke, but I laughed every minute I worked on it. I'm still laughing today.
2007
This Christmas we wish you plenty of time to slow down and enjoy the lights.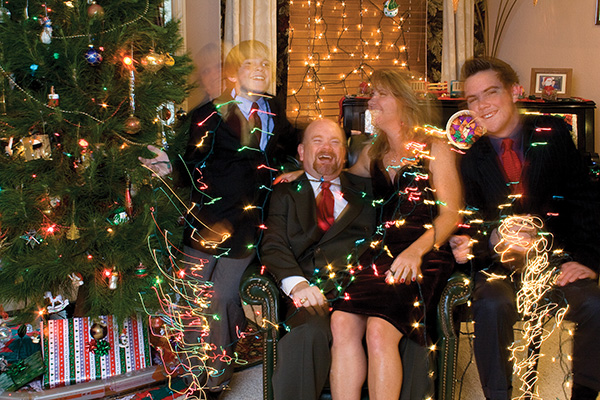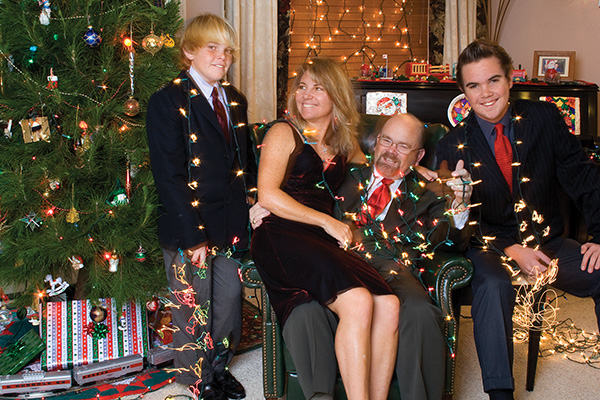 In 2007 I finally owned a DSLR camera and a studio umbrella flash. It was time to create the traditional, formal family portrait, taken in front of the Christmas tree. Our family isn't ever very formal, so we wrapped ourselves in Christmas lights to lighten things up a bit.
I experimented with longer shutter speeds, which made the Christmas lights stand out better. The longer shutter speeds also made us blurry, which we all really liked. The blurry portrait on the front of our Christmas card captures our family spirit, but to keep the more traditional family members happy, the less blurry portrait was printed on the back.
2008
Our four wish you and yours a Fab Christmas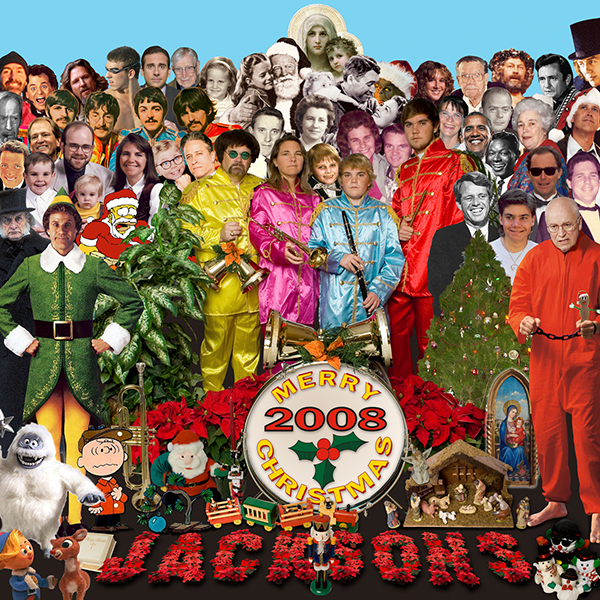 This is and will probably always remain our favorite Christmas card. The idea first presented itself in December of 2007. One of the guys threw out the idea, and everyone immediately loved it, except me. I went into a panic attack. I loved the idea, but I knew there was no possible way I could pull it off with less than a month to go before Christmas.
I convinced the family to give me a year, and sometime the following summer I started collecting images for the card.
In November of 2008 we rented the Sergeant Pepper's costumes, bought poinsettias, and borrowed the bass drum and trumpet for the intinial photo shoot. The composite includes a much younger family portrait on the left, in the same location as the Beatles wax figures from the original Serrgeant Pepper's album. Behind the early family portrait are the Beatles portrait from the inside spread of the album. The rest of the composite includes people who have inspired us, one person we'd love to see in an orange jump suit, friends and family photos (some very old), favorite Christmas movie characters and some of our favorite Christmas decorations.
2009
Let the good times roll this Christmas. The best holidays are those that are shared. May yours be spent with those you cherish most.

In 2009 our oldest son was enjoying his first year away at college. We went to visit him for Thanksgiving, and enjoyed a Segway tour of San Francisco while we were there. I asked another tour member to snap a shot of our family on our Segways, then waited for everyone to clear the pier so I could take a hand held panorama of the San Francisco sunset.
It just took a little Photoshopping to merge the panorama and place us into it.
2010
Don we now our gay apparel Fa-la-la-la-la la-la-la-la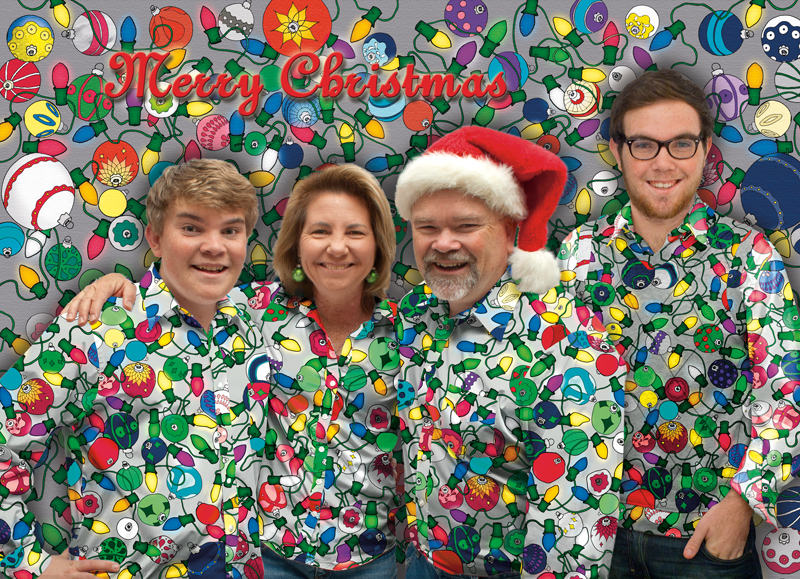 I won my first Photoshop World guru award in 2010 for my self-portrait. To commemorate the event I created this family portrait using with the same technique. You can read a tutorial for the self-portrait here.
At first the guys weren't so happy about being dressed in such dorky shirts, then dad started singing the song lyrics which became the card inscription. Everyone was happy after that.
2011
There's no place like home for the holidays.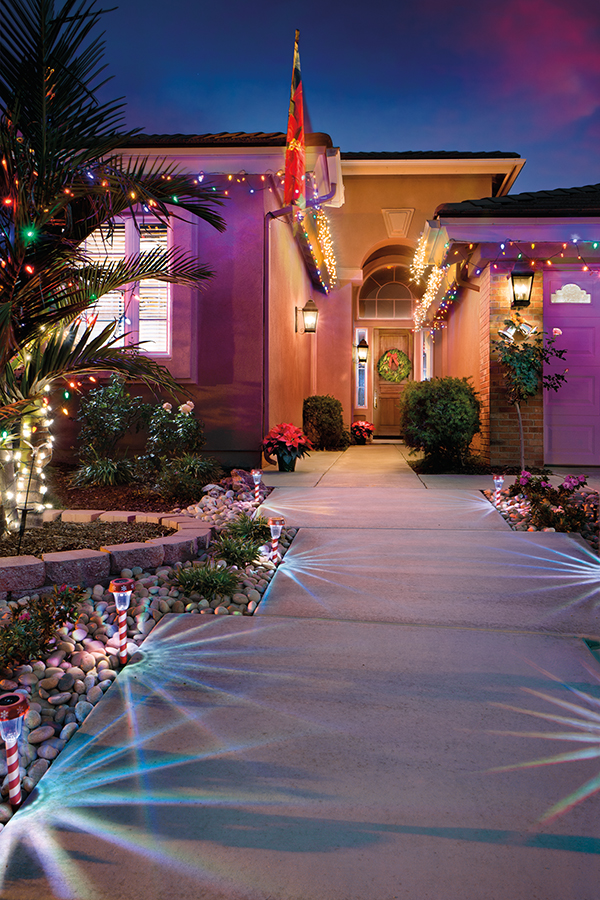 In 2011 I spent a lot of time exploring night HDR photography. Some of my favorite images from that year were photographed at night.
Every year we are the first in our neighborhood to put up Christmas lights. Our home was a great subject for my new found love of night HDR, mixed with a little light painting. The steps I took to create this image are documented here.
Everyone loved the image of our house, but I also heard several say they missed seeing our family. I took that to heart for this year's card. Our family is prominently featured, but I won't share it digitally until everyone has received one in the mail.