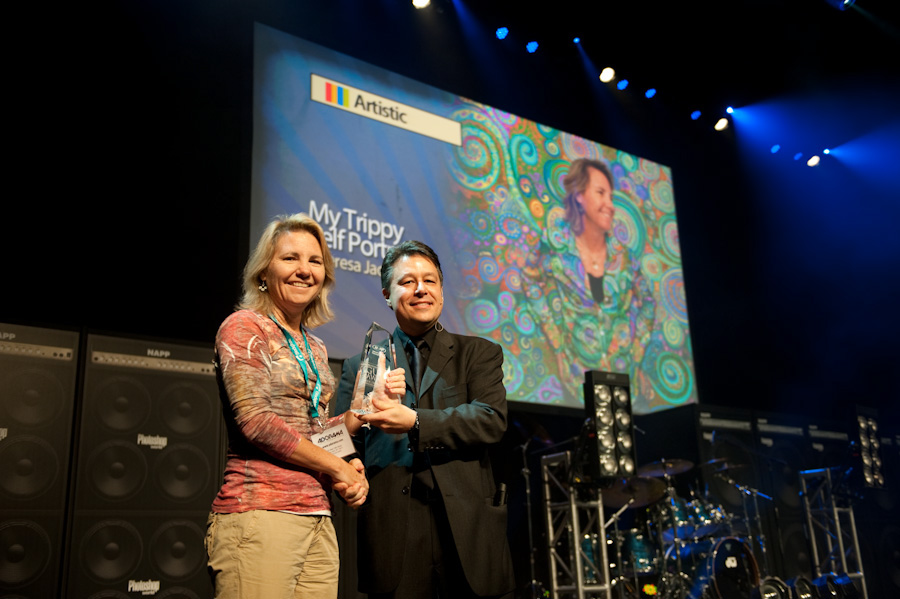 I've been back from Photoshop World for almost a week now and I'm still trying to get my feet back on the ground. This was my first Photoshop World and it was everything I hoped it would be and more.
Guru Award – Artistic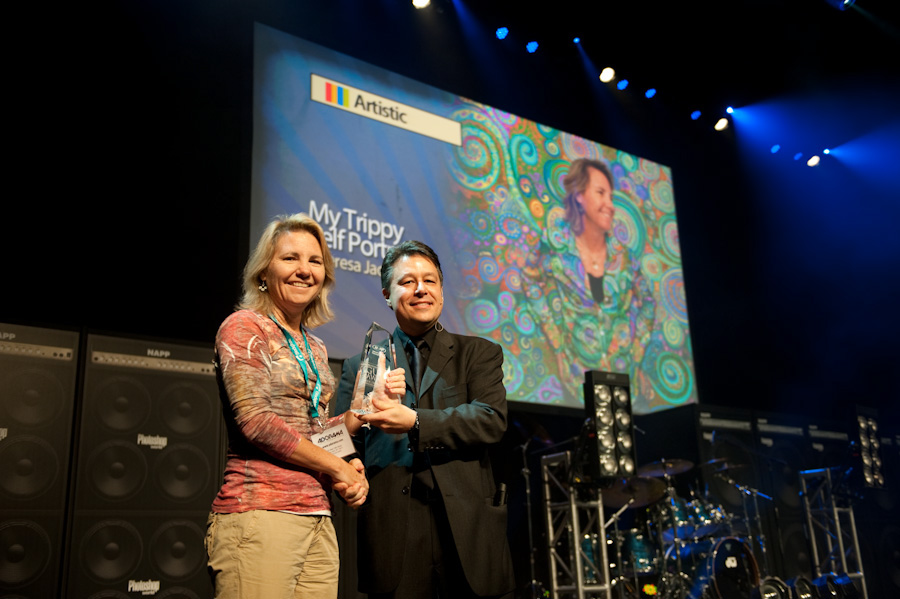 (c) Brad Moore
The guru awards were announced at the end of the opening ceremonies after a great show that included a funny spoof VH1 documentary, live music, Photoshop tips, Hall of Fame awards, best image contest for the Concert Photography pre-con (taught by local concert Photographer, Alan Hess) and an awesome magic act. The show was so much fun. I had arrived alone, but felt like I was surrounded by a few thousand friends. I never had an opportunity to be nervous. The artistic category was announced first, and then Larry Becker announced my name and my picture was on the big screen. I was stunned. I think I sat in my seat with my head in my hands for longer than I should have.
NAPP Instructors
I can't say enough nice things about the NAPP group of instructors. They are fun, friendly, gracious and completely accessible. After receiving the award, I walked off the stage and was greeted by Ben Wilmore who gave me a hug and told me congratulations. Wow! Ben's Photoshop class last year changed everything for me. He inspired me to take my Photoshop art seriously and to share it with others. I never dreamed that a year later I would be receiving a guru award at Photoshop World and he would be the first to congratulate me.
The night before I attended a Tweetup where I first met Rafael Concepcion (RC). I went up to RC and asked to introduce myself. Before I could say who I was he said, "I know who you are. You're a guru finalist for the portrait with the cool blouse." I spoke with RC again at the Midnight Madness. He congratulated me for the award and had some really nice things to say about the image. RC is a first rate geniune nice guy and a really, really smart instructor.
Thank You Alan Hess
Last July I participated in the Worldwide Photo Walk. Alan Hess was the walk leader for our San Diego Comic Con location. I introduced myself to Alan. I knew Alan was a Photoshop World instructor and I wanted him to convince me to go to PSW. I asked him why I should attend PSW and he gave me the perfect answer. Alan said I would meet great people and be inspired. He said I might also learn a few things. Alan was 100% accurate. I met the best people at PSW, made some new friends and definitely came away inspired. I learned a few new things too.
Conference Highlights
The best classes I took were the non Photoshop classes. I took a portrait lighting class that taught me a lot about light. I took a twitter class with Rod Harlan and Scott Bourne that taught me a lot of things to help build my graphics business. I watched a two hour presentation by Jay Maisel that was incredibly inspiring and exhausting at the same time. The received greatest inspiration from viewing the portfolio of Senior Digital Imaging Evangelist, Julienne Kost.
On Wednesday I participated in an HDRHDR is short for High Dynamic Range. HDR (High Dynamic Range) Photography refers to capturing an ent... More photo walk sponsored by APC. The walk was lead by Brian Matiash. We went to Freemont Street in the evening and photographed for 2 hours. I learned a lot about capturing good brackets for HDR and am really happy with the results.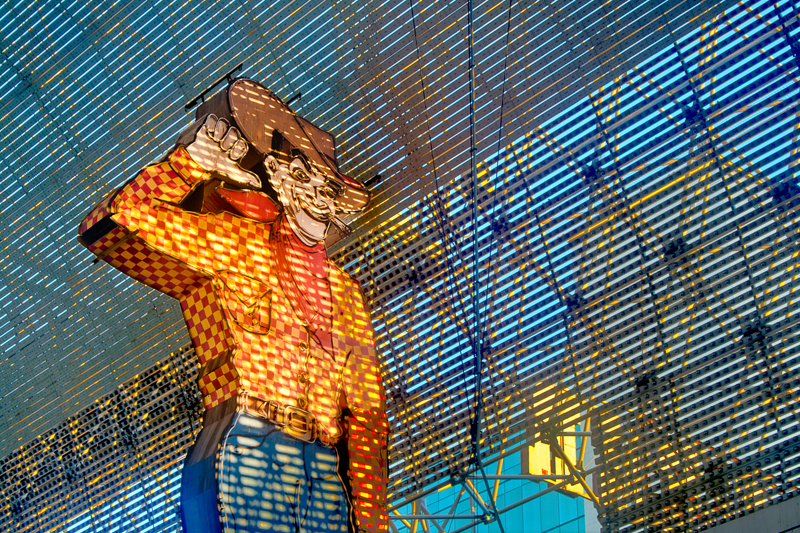 (c) Theresa Jackson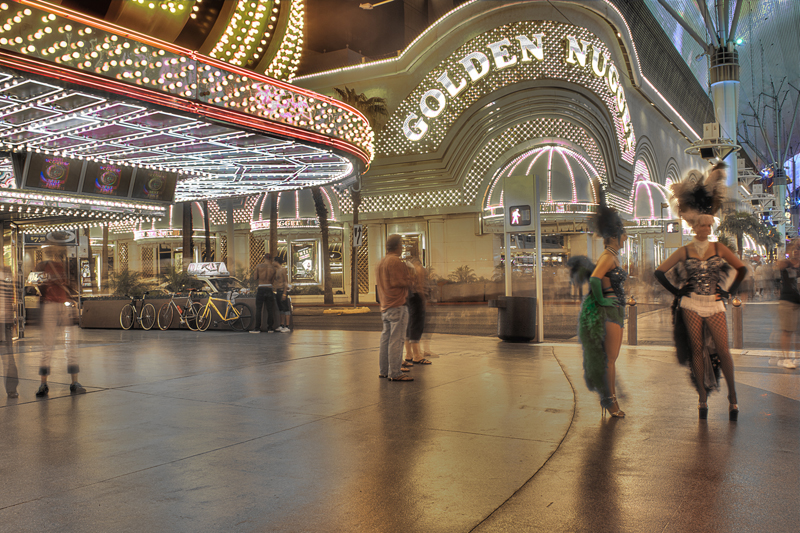 (c) Theresa Jackson
Friday night, after Photoshop World was over I went back out with camera and tripod and grabbed a few more images of Las Vegas.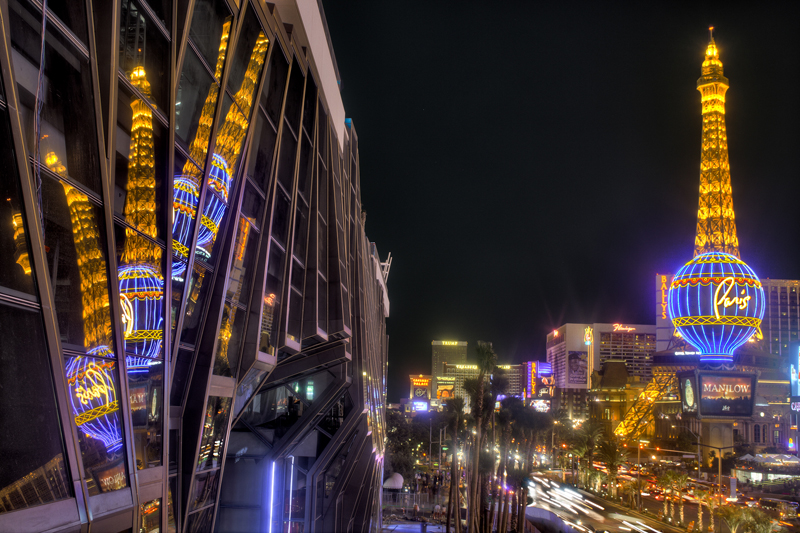 (c) Theresa Jackson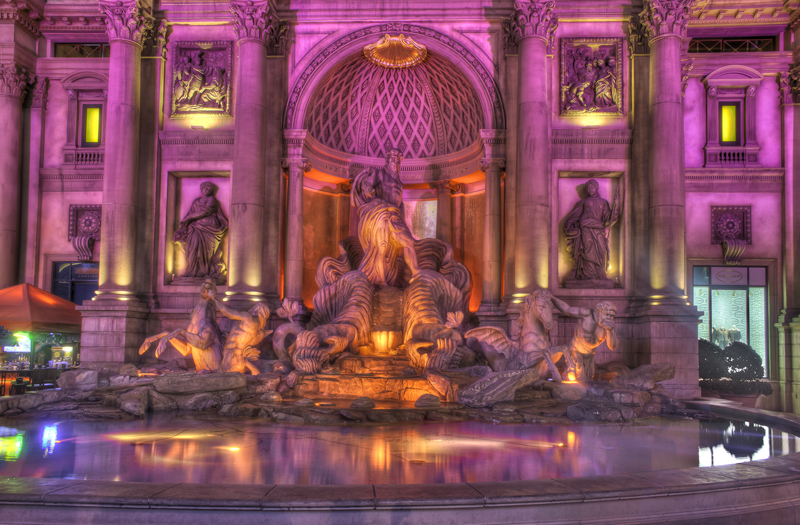 (c) Theresa Jackson
Special Thanks
My mom's encouragement and support made this experience possible. Thanks to her and my Aunt Nancy for sharing the trip to Vegas with me. I hope we can do it again next year.