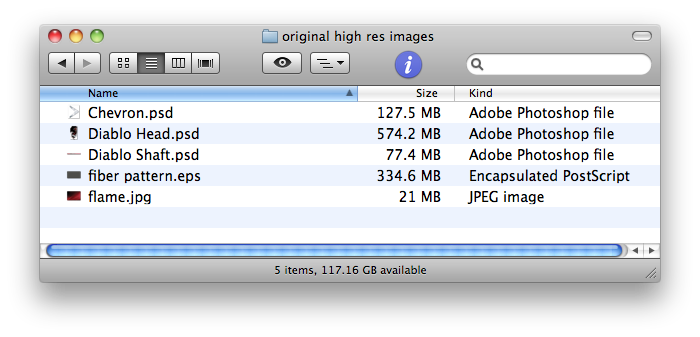 YES! Following these steps will significantly reduce the final size of your production files. I will illustrate using examples from a 40-foot trailer wrap project.
Start by making sure your image resolution is no more than you need it to be. See article Large Format File Resolution.
Step One
Gather your high resolution collateral and total up the file sizes. This project began with 1.13 GB of image files.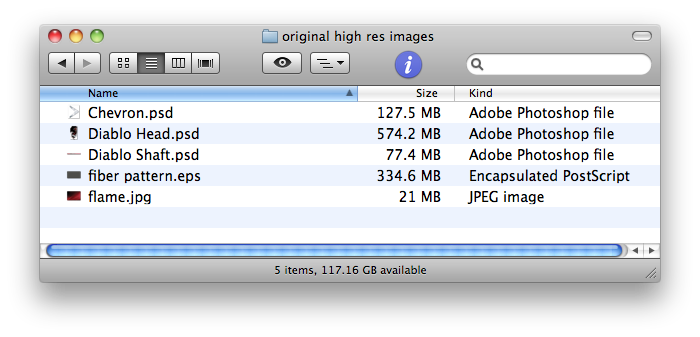 The first and most important step is to combine the image files into a single photoshop layout at the correct print size and resolution (See article Large Format File Resolution.) This step alone will significantly reduce the amount of bytes used for your project. Combining the original high-res files in a Photoshop layout (built to scale) takes the total byte size for this project down to 668 MB. We have already reduced our production file size by 462 megs.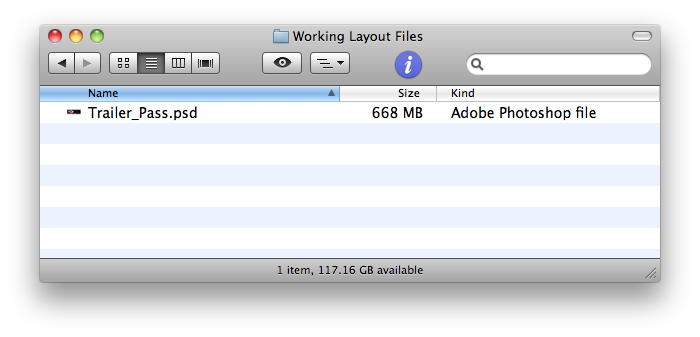 But wait, there's more…
Step Two
Save a copy of your layered working Photoshop file to a .tiff format. Make sure Layers option is turned off. Also deselect Embed Color Profile unless your printer has specified a specific profile.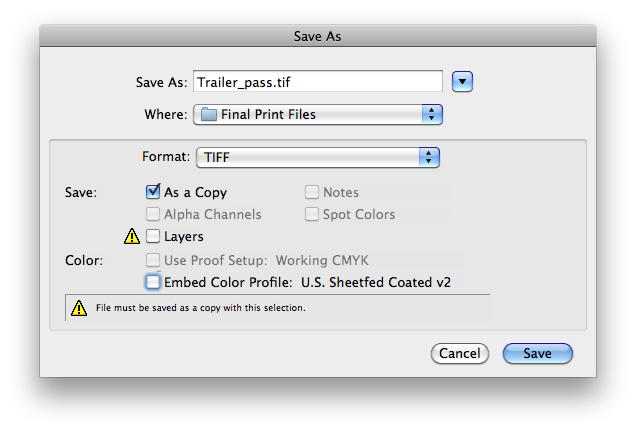 The second dialog box controls the size of your .tiff file. Under image compression choose LZW. This will compress areas in your design with solid color areas. If your layout has large areas of flat solid color you will see the most significant image compression. (I don't use LZW compression for offset printing but find it works great for large format images.) Also make sure you are saving a copy by flattening your layers.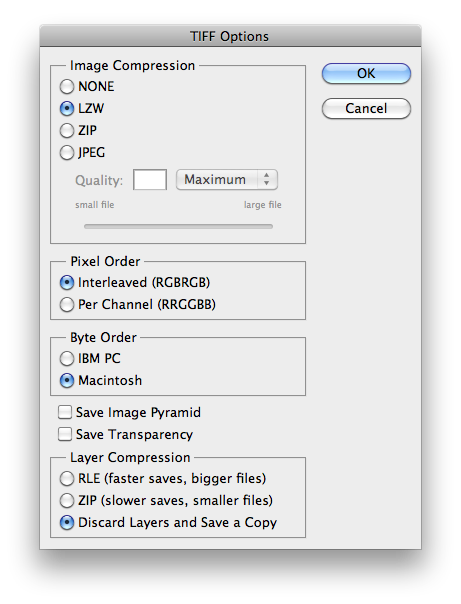 The compressed .tiff file is only 80.9 MG. Remember we started with image files that totaled 1.13 GB. We have reduced the image size of this project by nearly 1400%.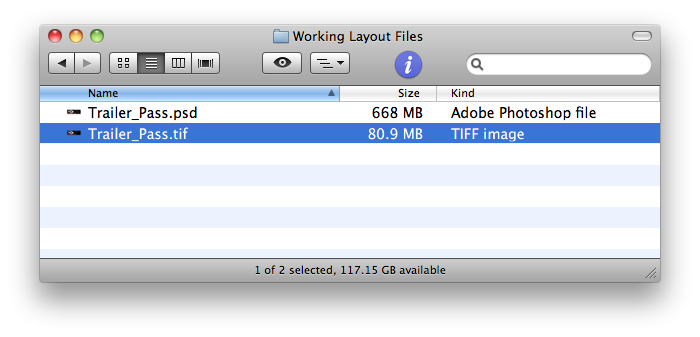 Step Three
Create an illustrator layout at the same print size as your Photoshop file. LINK your Photoshop.tiff file to your Illustrator layout. You can place text, logos and other vector files on top of the linked tiff file. I like to use separate layers for each.
Save a working copy of your illustrator file, retaining all your text as fonts (just in case you need to come back and make copy edtis).
Step Four
Outline all of your fonts and save a copy of your file for print. Save your file as a native illustrator ai. file. In the save dialog box uncheck the first option "Create PDF Compatible File."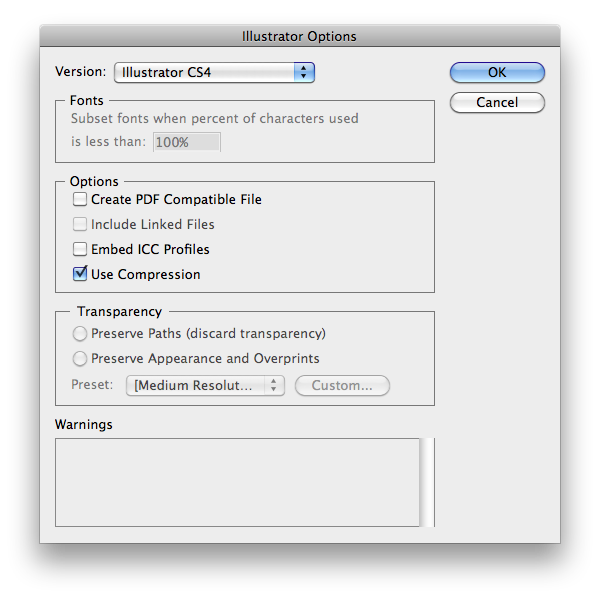 Illustrator default saves a PDF compatible file. Turning this option off will siginificantly reduce the size of your file. It will not change or damage your file in anyway. You will loose the pict preview that allows you to view it from your desktop, create a .pdf from Acrobat or place it into inDesign, but you don't need these options for your final print file. The megabytes you will save is more than worth losing the pict preview.
Why not save the final layout as an eps?
Many printers will ask for eps files because they need an eps file for their RIP. The truth is that any good prepress department is going to open your layout file and examine it before sending it to print. If they are going to open your file,then why not have them save the eps file? Saving ai files without .pdf compatibility siginificantly reduces overall file sizes saving transfer times on both the upload and the download. Your ai file will also open much faster for your printer saving their preflight department time as well.
The sample trailer file saved as an eps file is 353.2 MB. The native ai file without PDF comaptibility is only 213 KB.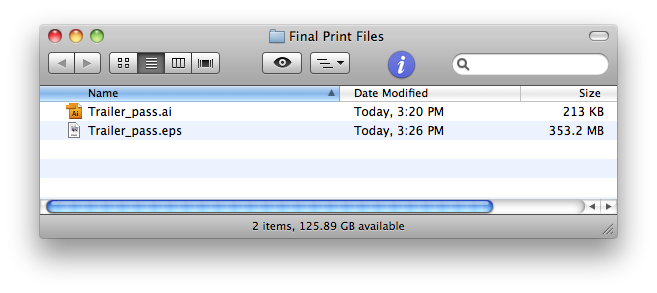 Success
You are ready to send your project to the printer. All the printer needs is your Illustrator layout and the Photoshop tiff file. This project started with over a gig of information and now the print ready files total less than 100 MB. With todays high speed connections, a job this size will only take a matter of minutes to upload or download, saving you and your printer valuable time.